Thought I would pick up where I left off last night

:

"Turkey's currency plunges as Trump tweets about increasing tariffs" by Jack Ewing The New York Times August 10, 2018

Turkey's

currency plunged

Friday — accelerated by a

hostile tweet

from

President Donald

Trump

— causing financial

markets

to

tremble

and showing that the country is as much a risk to the world economy as it is a geopolitical flashpoint.


I have to admit I am dumbfounded and awestruck by the raw economic power that can be waged by the AmeriKan Empire. Countries shrivel in the face of it. What chance does an individual have?

Internal political turmoil, soaring inflation, and conflict with Trump over a jailed American pastor have combined to

destroy confidence

in the Turkish lira, which

lost 20 percent of its value against the dollar

at one point Friday.


As long as the dollar is the re$erve currency, the U.S. will have this sort of leverage. If they lose that, we are Venezuela (which is conspicuously absent in today's paper).
Related: "Zimbabwe's main opposition party filed a legal challenge Friday to the results of the country's first election without Robert Mugabe on the ballot, alleging irregularities and

call

ing

for

a

fresh vote

or for its candidate, Nelson Chamisa, to be declared the winner. The filing brings more uncertainty to a country that

had hope

d the

peaceful vote would begin a new era but

has been rocked by scenes of military in the streets and opposition supporters harassed and beaten. The court now has 14 days to rule, and the inauguration is on hold until then....."
Probably going to look like that here come November.

There is

fear among foreign investors

that President Recep Tayyip Erdogan is pursuing irresponsible economic policies while

undercutting

the

independence of the central bank

. That, analysts fear, is preventing the country from taking necessary steps to put the economy on more stable footing.


Yeah, that is a problem wherever you go (incidentally, only two countries in the world have not bought into the $y$tem, and those are North Korea and Iran. World events and the pre$$ focus starting to make sense now?)

Trump

aggravated an already dire situation

when he said that he would double tariffs on imported Turkish steel to 50 percent and on aluminum to 20 percent. The move seemed to be in retaliation for Turkey's refusal to release an American pastor, Andrew Brunson, detained during a crackdown after a failed coup attempt in 2016.

The move effectively

prices

Turkish steel

out

of

the

US market

, which accounting for 13 percent of Turkey's steel exports.

Trump's

hostility

toward a NATO ally that borders Iran and Syria

increases the risk

Turkey's problems

could destabilize economies well beyond

the region. The sharp decline of the lira, and worries over the wider consequences of Turkey's economic turmoil, helped drive the main stock indexes in Tokyo, Frankfurt, and Paris more than 1 percent lower.


Oh, so Turkey is going to take the blame for the collapse of the house of cards built upon stock buybacks, 'eh? Them and who else (I think I already know)?

On Friday Erdogan continued to

blame foreigners

for the country's problems. His

combative comments on national television

were seen as a signal that he is not likely to change the policies that have undercut the lira's value, pushed inflation close to 16 percent and made bank loans prohibitively expensive.


Turkey's Trump?

With its

currency weak

ening, Turkey

must pay more for import

ed oil and other good

s

. That leads to higher inflation, causing the lira to fall even more. Without steep increases in central bank interest rates and cuts in government spending — moves Erdogan has so far refused — the country could suffer hyperinflation and economic collapse.


Regarding the first sentence, they could always take some of Iran's hands (another notable absence today).
As for the second, it's au$terity they are pushing there. I'm wondering, does Turkey have a deal with the IMF yet, or is this a way to make 'em make one so they are back in the clutches again. You know, being strategically located as they are.

The lira's sharp

decline has reflected concern

s about the fundamentals of Erdogan's

economic model

, which has depended on a voracious construction industry that his opponents say has

enriched

his

inner circle

while

heaping debt on

the country. The currency continued to fall after Erdogan acquired sweeping executive powers with his re-election in June, amid concerns the strong-willed president is taking no one's economic advice but his own; he has resisted calls to raise interest rates to curb inflation and to ease pressure on the lira.


Hey, that is OUR ECONOMIC MODEL!

Investors

fear banks

in Asia and Europe

could suffer

because they have invested in Turkish assets, and those problems could then spread to other sectors of the economy. Erdogan dismissed such concerns. In a speech Thursday, he insisted Turkey would weather the current storm.


Actually, I'm not really worried about them because they have reported a$tronomical profits for years.

"Don't forget, if they have the dollar, we have our people, our Allah," Erdogan said.

Subtle little jab there by Erdogan, and maybe he is right. The dollar gives them the power of Gods.

--

more

--"

Related

:

"

Russia

's prime minister sternly

warned

the United States

against

stepped-up

sanctions

, saying Friday that Moscow would retaliate with economic, political, and unspecified ''other'' means. The tough message from Prime Minister Dmitry Medvedev reflected

growing dismay

over announced US sanctions that have sent the Russian

ruble plummeting

to its lowest level in two years. The State Department said Wednesday that Washington would impose new sanctions this month after determining that Moscow used nerve agent in March to poison a former Russian spy in England. Russia has denied involvement in the poisonings of Sergei Skripal and his adult daughter. The State Department said the sanctions will include denial of export licenses for Russia to purchase many items with national security implications. Congress is considering limits on bank transactions."
You see, these kinds of sanctions and threats make even the Russians pi$$y.
If rivals such as Russia and China sway before the almighty dollar, then who can stand against "dollar diplomacy?" It's all in the selling of the oil, right? Shooting in Canada leaves 4 dead, including 2 police
Comes as Canada has been roiled in recent months by mass violence and it was in a place where that kind of stuff is extremely rare, same for the country regarding two police officers killed. Related(?)

:

Saudi Arabia Threatens Canada I think they just delivered.
Like the printed Globe did regarding Yemen: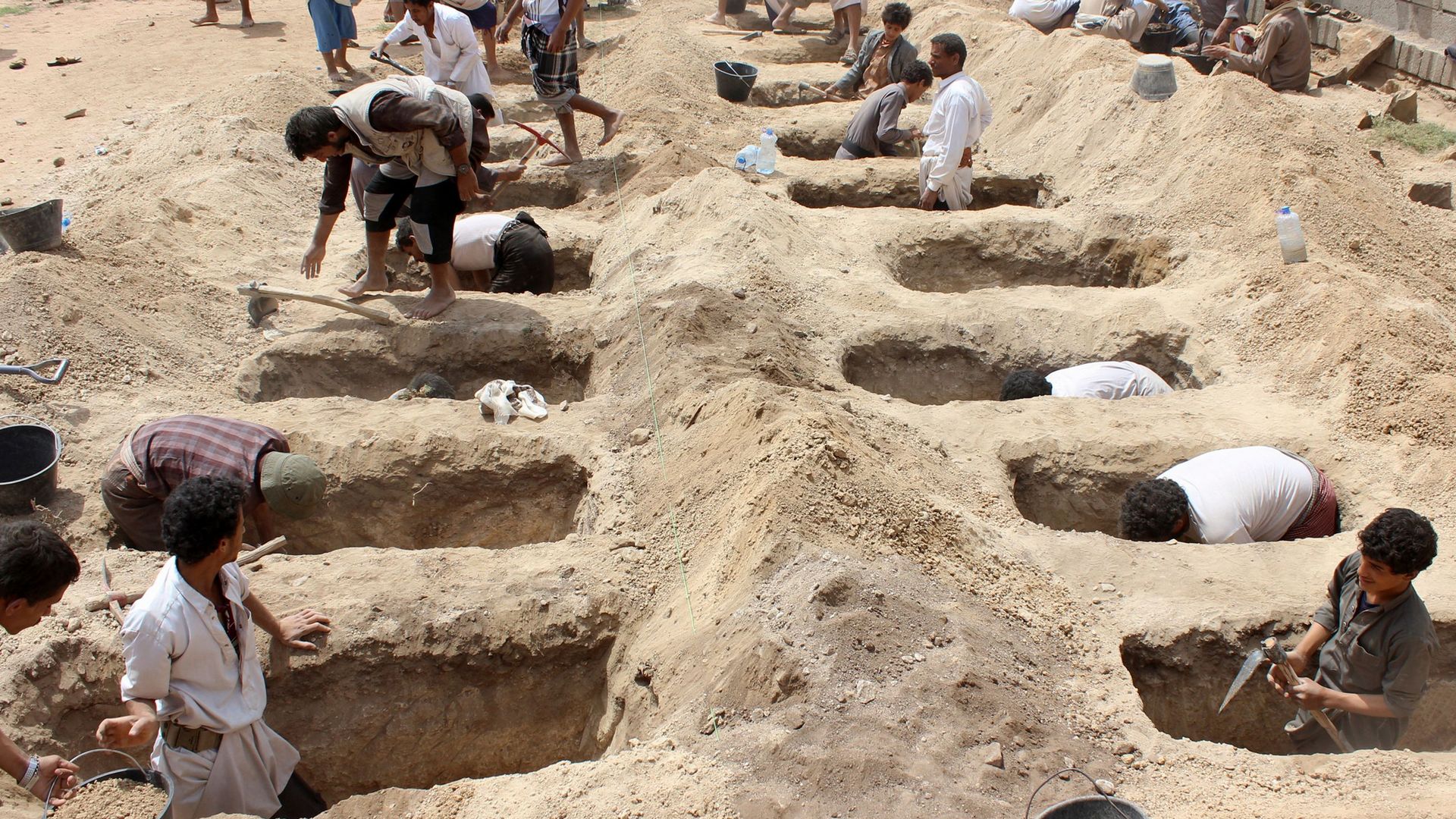 Yemenis dig graves for children killed in a Saudi coalition airstrike on their bus. Photo: Stringer/AFP/Getty Images
The web version has no mention of it; however, I'm told the Saudi investigation of Yemen airstrike unlikely to result in penalties by the link to the photo.
And speaking of dead kids
:
"Violence erupts amid Gaza cease-fire" by Ian Deitch Associated Press August 10, 2018
JERUSALEM — Violence erupted at the Gaza border Friday, although the territory's militant Islamic Hamas rulers and Israel appeared to be generally
honoring a cease-fire
.
On Friday evening,
however
, two Palestinians, including a
paramedic
, were
shot and killed
by Israeli fire at a Hamas-led protest along the border, Gaza's Health Ministry said. The Israeli military had no immediate comment on the deaths.
Well, he did say generally -- meaning there is no cease fire at all, at least on the Israeli side. I'll have to keep reading (sigh).
The military said a
tank fired shells
at a Hamas position
after
Palestinians threw explosive devices and a grenade at forces stationed near the border.
Yeah, okay, Israel is always, always retaliating.
So they throw something and a tank opens fire, huh?
It was not immediately clear whether the Hamas protests at the border were included in cease-fire negotiations.
Oh, okay.
That gives Israeli soldiers carte blanche cover and immunizing them from war crimes.
Hamas's Al Aqsa TV channel reported late Thursday that the Egyptian-brokered deal took hold ''on the basis of mutual calm.'' It was at least the third such truce in recent weeks, but the deal did not seem to address the deeper issues that have prevented the bitter enemies from reaching a longer cease-fire arrangement.
Gaza militants fired some 200 rockets at Israel and the Israeli military carried out a similar number of airstrikes in Gaza in the latest round of violence this week.
Also on Friday, the
Israeli military lifted restrictive recommendations for residents of some areas in southern Israel
that it had set amid the Palestinian bombing, including suggestions to avoid open areas
and
beaches.
''Following a security assessment,''
residents can resume their daily routine
, the military said.
So the invasion has been called off?
I mean, if they are not mind-f***ing their own citizens with yo-yo fear anymore..... ?
Can we start talking about GETTING SOME FOOD and MEDICINE INTO THE PLACE NOW?
Israel and Hamas have fought three wars since the Islamic militant group seized control of Gaza in 2007.
If you can call 'em, wars. More like shooting fish in a barrel, with a dose of white phosphorous and other abominations every now and then.
Israel and Hamas have come close to serious conflict in recent weeks after four months of violence along Gaza's border.
Hamas has led
weekly border protests aimed
in part
at drawing attention
to the Israeli-Egyptian blockade imposed after Hamas took control of Gaza. Large turnout at the protests has also been driven by
widespread desperation
in Gaza, amid worsening conditions linked to the
blockade
.
Well, I will give them credit there for saying Hamas took control. That's more benign than how they usually frame their winning election into office more than a decade ago.
As for the rest, when you think about it, Gaza is the longest currently active instance of strangulation by siege on the planet today.
Power is on for just a few hours a day, unemployment has sky-rocketed and poverty is widening.
Gaza's Health Ministry said Abdullah Al Qutati, 26, was shot and killed and 70 others were wounded by live fire as thousands protested at the border Friday evening. A 55-year-old Palestinian was also killed, it said.
Another paramedic, Mohammed Suhwail, told The Associated Press he
witness
ed the shooting. He said after treating the wounded, Al Qutati ''began walking toward the (field hospital) but was
shot in the back
and the bullet exited from his chest.''
Maybe he was running backward and rushing the border fence?
The Israeli soldiers must get bored behind their berms all day, so if they sight something through the black smoke of burning tires..... blam, blam.
And think of that for a minute: Palestinians are so desperate they will risk inhaling that foulness and poisoning themselves so they can huck a few rocks with slingshots. I mean, you wouldn't do it if there were any modicum of normal existence in that penned-up, open-air prison. No one would.
Israel has also been
battling
almost
daily airborne arson attacks
from Gaza caused
by kites and balloons
rigged with incendiary devices flown across the border
that have sparked large fires
that destroyed forests, burned crops, and killed wildlife and livestock.
I'll bet they are nothing like California's apart from possibly being set.
Over the past four months, 164 Palestinians have been killed by Israeli fire, including at least 121 protesters and three medics according to the Hamas-run Gaza Health Ministry and a local rights group. An Israeli soldier was killed by a Gaza sniper during this same period.....
Did you see the death toll ratio there?
Clues you in to who is the aggressor.
--
more
--"
Raining down tear gas, huh?
Also see: Israeli minister urges assassination of Hamas leaders
They just did some wet work in Syria that quickly went away.
Maybe we should all be worried for our own safety.