What I've come to notice is that if you substitute

ISRAEL

for the

Sri Lankan government

and

Palestinians

(or any Muslim resistance decribed in the Zionist War Daily's pages) for the

Tamil Tigers

, you would be describing that situation.

Related:
Mossad in Sri Lanka
Israel's Cousin
Sri Lanka Invokes Israeli War Crimes Defense
The interchangeable aspects of the MSM in their agenda-pushing, enemy-creating, conflict-promoting ways has me suspicious of all of their reporting, and their one-sideness on this particular issue once again cast doubt on their impariality and objectivity -- as if they had any to begin with.
"
Shells
blast Sri Lankan
hospital
; 9 die
COLOMBO, Sri Lanka - Three artillery barrages struck a hospital in Sri Lanka's chaotic war zone, slamming into its pediatrics ward and its women's wing and killing nine patients, the Red Cross said today.
Dr. Thurairajah Varatharajah, the top government health official in the area, said the shells in at least two of the attacks yesterday appeared to have been fired by the Sri Lankan army.
They caused extensive damage to the overcrowded Puthukkudiyiruppu Hospital, one of the last functioning health institutions inside rebel-held territory, he said.
"We're at a loss to understand why people would shell a hospital," said UN spokesman Gordon Weiss, who did not cast blame on either side for the attack. The attacks hit a kitchen, a chapel, and the women and children's wing of the hospital, Red Cross spokeswoman Sarasi Wijeratne said.
Military spokesman Udaya Nanayakkara said the army was not responsible for the attacks and blamed the rebels, known formally as the Liberation Tigers of Tamil Eelam.
The military has repeatedly denied killing civilians in their offensive to wipe out the Tamil Tiger rebels and end the island nation's 25-year-old civil war with the ethnic separatist group. Independent reports from the war zone are not available because journalists are barred.

That sounds SOOOOOO like GAZA!!!!

The attacks on the hospital came amid reports of increasing casualties among ethnic Tamil civilians trapped with the rebels inside a tiny patch of jungle and small villages. The Red Cross estimates 250,000 are in the area. Varatharajah estimated last week that more than 300 civilians had been killed.
--
more
--"


Of course, the Globe EDITORIALIZES about SRI LANKA'S SLAUGHTER!! I never saw one on Gaza, otherwise I'd have posted it.
"The anguish of Sri Lanka
THE SHELLING of a hospital pediatric ward Sunday in Sri Lanka gave the world a glimpse of the scorched-earth offensive Sri Lanka's government has been conducting against the secessionist Tamil Tigers. UNICEF and the International Committee of the Red Cross expressed shock that the hospital was shelled, leaving children and their mothers mutilated, dead, and dying.
It does not matter whether the government of President Mahinda Rajapakse or the Tiger leadership is most to blame for the suffering of 250,000 civilians trapped in the war zone. The war has to be stopped. The Obama administration ought to ask for a United Nations Security Council resolution calling for a cease-fire, and the Asian powers providing military assistance to Sri Lanka - China, India, and Pakistan - should exert their influence on the government to halt the shooting.

Somehow, all that U.N shit again went nowhere, huh?

SILENCE = APPROVAL, U.N.!!!

Ending the offensive is not only a humanitarian imperative, it is also the politically wise thing to do. Even if defeated militarily, the Tigers are likely to regroup and conduct terrorist operations in the capital, Colombo.
Also, many of the 62 million Tamils living in the Indian state of Tamil Nadu, anguished at the plight of their fellow Tamils, are expected to stage major protests Thursday, the anniversary of Sri Lanka's independence from Great Britain. Schools and universities in Tamil Nadu have been shut in anticipation of trouble. There is a danger that Sri Lanka's intercommunal conflict could have destabilizing repercussions in India.

So WHY DIDN'T YOU COVER the PROTESTS, Globe?

The conflict between Tamils of northeastern Sri Lanka and the Sinhala-dominated government has been going on since 1983. The only true solution must be political: some form of confederal autonomy for the Tamil regions. But the more civilians are killed and maimed, the harder it will be to reach that solution.

--more--"

The PARALLELS are EERIE, huh, readers?

COLOMBO, Sri Lanka - Sri Lankan President Mahinda Rajapaksa proclaimed in an Independence Day message yesterday that the rebel Liberation Tigers of Tamil Eelam would be "completely defeated in a few days," potentially signaling an end to a 25-year insurgency that is one of the world's longest ongoing conflicts.

Okay, that was February 5th. Keep reading.

The rebels' last holdouts are penned into a small zone in the north of the island nation, and reports from the war zone indicate that they are close to being overrun amid fierce fighting with government forces. Civilian casualties have been significant: United Nations officials said that 52 civilians were killed in the past day, and that cluster bombs had struck a hospital....

Rajapaksa's address came alongside UN reports that cluster bombs had hit the north's largest functioning hospital. Fifteen UN staffers and 81 family members are trapped in the Puthukkudiyiruppu area, where the hospital was hit, UN spokesman Gordon Weiss said.
"We hold the gravest fears for the safety of our staff and their families," Weiss told reporters. The International Committee of the Red Cross (ICRC) reported that the hospital has been hit five times in the past few days, including a strike on the pediatric ward, leaving at least 12 civilians dead and 30 wounded.
After a harrowing night of intense shelling, the patients and medical staff have been evacuated, said Sarasi Wijeratne, an ICRC information officer in the country's capital of Colombo.

Something not available to Palestinians.

"The patients are out after shelling continued into the morning and hit the operating theater. Some patients were running out of the hospital because they were scared," Wijeratne said. "Now we are requesting that the patients be allowed to be moved so there can be treatment and care for the sick and wounded."
It was
not clear who launched the cluster bombs
. Sri Lanka's military spokesman, Brigadier Udaya Nanayakkara, said that the
government wasn't to blame
.
--
more
--"


Had ENOUGH of the ONE-SIDED accounting from the Zionist MSM?
"
Sri Lanka rejects calls for cease-fire
ISRAEL!!
COLOMBO, Sri Lanka - Sri Lanka's prime minister yesterday
rejected calls for a cease-fire
from donor countries worried by reports of
growing civilian casualties
in the South Asian nation's civil war, instead demanding the Tamil Tiger rebels' unconditional surrender.
Sri Lanka also said its forces captured the rebels' biggest sea base, effectively cutting off their supply point and pushing them to the brink of defeat.
"No force can stop this operation. Government forces have already achieved significant victories against the terrorists," Prime Minister Ratnasiri Wickremanayake told Parliament. He said the government will only accept an unconditional surrender by the Tamil Tigers, who are facing defeat after a fruitless 25-year war for a separate Tamil homeland.
Hundreds of civilians have reportedly been killed in recent fighting in the Vanni region in the north, where rebels and an estimated 250,000 civilians are trapped in a rapidly shrinking war zone.
"Our forces have now surrounded the last stronghold of the terrorists," Wickremanayake said. "The last moment of Tigers will be painful as well as decisive." His words effectively rejected a call by the United States, Britain, and Canada for a cease-fire to allow civilians and the wounded to leave the area.

--more--"
How come they are allowed to thumb their noses at the great world powers while Iraq gets invaded?

COLOMBO, Sri Lanka - A suspected female Tamil Tiger suicide bomber blew herself up yesterday while being frisked by soldiers processing civilians fleeing from Sri Lanka's northern war zone, killing at least 28 people and wounding 60, the military said.

Now I am REALLY SMELLING the STENCH of FALSE-FLAG OPERATIONS and SHIT REPORTING!!!!!!!!!! She sure showed up just in time!

The blast took place at a crowded refugee camp in Vishvamadu, a town in the north of the Indian Ocean island which was recently captured by the military, part of its ongoing offensive to corner the Liberation Tigers of Tamil Eelam and end a 25-year war, said military spokesman Brigadier Udaya Nanayakkara. An estimated 20 soldiers were killed along with at least eight women and children, he said.
"A large number of civilians are coming in seeking protection from the army," said Nanayakkara. "When we were checking this female - by a woman soldier - she exploded herself. It shows their desperation at this stage in the war."

Then we can LEAVE IRAQ, right? War must almost be over if they are using "female suiciders."

Readers, I DO NOT BELIEVE in FEMALE SUICIDE BOMBERS, in fact, I NO LONGER BELIEVE in AmeriKa's JEWSMEDIA ACCOUNTS of such things -- because they LIE!!!! They "report" agenda-pushing bullshit, not "news!"

See: Prop 201 tutorial

The suicide attack also showed the complicated nature of the conflict along with increased concerns about the ever-shrinking space for civilians during the war's final battles. The International Committee of the Red Cross estimates that 250,000 people are trapped amid the fighting, although the government says that number is far lower. The rebels could not be reached for comment since communication to the north is severed. Journalists are not permitted to the front lines of the war, so reports are difficult to verify.

Then WHY SO MUCH PRINT? A real hard agenda-push, huh?

"What we do know is that this northern population has been displaced several times and they are now cornered in a very small area. This now means these people have no space to go to," said Sophie Romanens, a Red Cross spokeswoman in Colombo. Four hundred sick and wounded civilians who were moved from a shelled hospital last week still need to be moved to a functioning hospital, she said. They are huddled in a community center in Puttumatalan, about 3 miles from the hospital.
"Many patients are outside," Romanens said. "They've had to hang IV drips from the trees. We are repeatedly asking both sides to grant safe passage so medical assistance can take place."
Civilians have fled the war zone in recent days, with 4,700 leaving Sunday, bringing the total number to have escaped to 20,000 this year, Nanayakkara said.
President Mahinda Rajapakse has refused US Secretary of State Hillary Clinton's calls for a "temporary no-fire period" to allow more civilians to evacuate the combat zone. Rajapakse warned rebels at a festive rally this weekend to surrender or face death. He called his effort " a humanitarian one," saying the government will protect civilians and that more lives will be saved if the war ends quickly.

I guess the U.S. has power over no one. Ms. Hitlery also dropped the protestations rather quickly, didn't she?

"They must let the civilians go and then unconditionally give themselves up," the president told cheering supporters in the northwestern district of Kurunegala, who handed him lotus flowers. "I must warn them we will not halt our operations against terrorism until we reach our final objective."

Of course, bombing a hospital is not terrorism.

The Tamil Tigers have waged war since 1983 for a separate state for the nation's ethnic Tamil Hindu and Christian minorities, who claim decades of economic and racial discrimination at the hands of the governments controlled by the Buddhist Sinhalese majority. More than 70,000 people have been killed in the fighting, which has left the palm-fringed island a maze of checkpoints in the south and a north and eastern countryside of charred huts and refugee camps.

And CUI BONO when HINDUS and CHRISTIANS are under attack (forget the Buddhist angle for a minute and think Muslims for a second; WHO BENEFITS?). And that is the FIRST TIME I ever recall the obfuscating and omitting papers

In recent months, the Sri Lankan military has boxed the Tamil Tigers into an increasingly tight corner on the island's northeast coast, where rebels operated a de-facto state-within-a-state. The government appears closer to winning the war than at almost any time since the insurgency began, some analysts say.

--more--"

Then the "war" should be ending in days, right?

"16 killed in shelling at Sri Lankan hospital; 19 others die while fleeing area" by Ravi Nessman, Associated Press | February 11, 2009

ANOTHER ONE?

COLOMBO, Sri Lanka - At least 16 patients being treated at a makeshift hospital in the northern Sri Lankan war zone were killed by shelling, the Red Cross said yesterday, and the military accused rebels of killing 19 other civilians fleeing the area.
The United Nations, meanwhile, said it was outraged by the deaths of hundreds of people inside rebel territory and urged both sides to avoid fighting in civilian areas. The government accuses the Tamil Tiger rebels of holding civilians hostage in the war zone to use as human shields against the military's offensive. The rebels deny the accusation.

Amazing, isn't it, readers? Seems like you have heard it all before, huh?

International human rights groups say more than 200,000 civilians are believed to be trapped in the patch of territory still under rebel control. Reports of civilian deaths have increased in recent weeks, and the Red Cross, the last major aid agency allowed to operate in rebel-held territory, said at least 16 patients were killed Monday in shelling near a community center in the town of Putumattalan, where medical workers had evacuated many sick and wounded civilians.
"We are shocked that patients are not afforded the protection they are entitled to," said Paul Castella, head of the Sri Lankan delegation of the International Committee of the Red Cross. Military spokesman Brigadier Udaya Nanayakkara said the insurgents fired early yesterday on a group of more than 1,000 people trying to escape the war zone, killing 19 and wounding 75.

Do I need even comment anymore?

Yesterday, local fishermen helped Red Cross workers ferry about 240 of the patients to a chartered boat to evacuate them from the war zone, said Sarasi Wijesinghe, a Red Cross spokeswoman. She said 140 other patients remained at the makeshift hospital, but the aid group hoped to evacuate them today.
More than 1,000 civilians fled yesterday, and 6,599 reportedly crossed Monday, even as a female bomber killed 19 soldiers and 10 civilians at an army checkpoint. The government earlier said the blast had killed 20 soldiers and eight civilians. Amnesty International condemned the attack as a clear violation of international law.

Oh, they CONDEMNED the OPPRESSED MINORITY, huh?

NOT the GOVERNMENT SHELLING of HOSPITALS, huh?

Yup, that's why I NO LONGER LIKE the jew-centric "human rights" organizations!!!!!!!!!

What a fool I was to believe in and fund them in the 1990s!

"Blurring the distinction between civilians and combatants means that thousands of ordinary people, desperate to flee the conflict area, are at greater risk of reprisals and getting caught in crossfire," said Yolanda Foster, the London-based group's Sri Lankan researcher.
In Geneva, the
UN refugee agency
said it was "outraged by the unnecessary loss of hundreds of lives and the continued suffering of innocent civilians" inside rebel territory. It
urged the government and Tamil Tigers to avoid fighting
inside a
government-designated "safe zone"
where many civilians were reportedly killed.
--
more
--"


Ready for the propaganda to go up a notch?
"Survivors say Tamil
rebels killed fleeing civilians
" by M. Liyanarachchi, Associated Press |
February 12, 2009
TRINCOMALEE, Sri Lanka - Starving and trapped by fighting between Sri Lankan troops and Tamil Tiger rebels, scores of civilians tried to flee villages in the northeastern war zone. But as they ran, the rebels opened fire, according to survivors' accounts.
Manoharan Mahendran said residents of Vishwamadu village begged to be allowed to cross into government territory last week, but the separatist Tigers blocked their path and fired indiscriminately.

"People were helpless," 53-year-old Mahendran said yesterday in a rare firsthand account.

I'm sorry, readers, it could all be true; however, I no longer believe anything in my Zionist-controlled piece of agenda-pushing shit, so why should I believe their "first-hand account?"

At least 1,000 others escaped Vishwamadu, said Mahendran, who was shot in the leg. They are among the tens of thousands of civilians who have fled the fighting in northeastern Sri Lanka in recent weeks. Mahendran - among hundreds of sick and wounded who made it out on a ferry commissioned by the Red Cross on Tuesday - waited for treatment at a hospital in the government-held port town of Trincomalee, south of the war zone.

Think she would get treatment if she criticized the government and proclaimed support for rebels?

Many arrived in critical condition, and two died, hospital officials said. One girl lay waiting to be treated, the words "spinal injury" scrawled along her arm. Those at the hospital described dodging rebel gunfire and surviving the shelling of the last functioning hospital in the northeast.

Yeah, and WHO DID THAT?

"My wife and child got killed in the shooting by the rebels," said Selvadorai Thavakumar, 23, from Kilinochchi, the former de facto rebel capital, which the government captured in January.

The rebels have been fighting since 1983 for a separate state for the country's minority Tamils. Some 70,000 people have been killed in 25 years of violence.

--more--"
Yeah, MOSTLY TAMILS!!!!! Like with the Kurds and the Turks, why does the jew media leave those facts out?

Then finally, FINALLY, we get the OTHER SIDE from the AmeriKan jewsmedia -- in the form of a dumb kid here!

Winchester High School student Priya Suntharalingam, whose parents are from Sri Lanka, has gone without food for 11 days. (Barry Chin/Globe Staff)
It's been eleven days since Priya Suntharalingam, a Winchester High School junior, has eaten a meal.

The petite 17-year-old is the youngest of eight ethnic Tamils in the country who are fasting to call attention to the plight of their countrymen in Sri Lanka, an island nation off the coast of India where some 300,000 members of the Tamil minority are trapped in the fighting between the Sri Lankan government and the Tamil rebel army.

I wonder why the Globe never did a companion piece regarding Israel and Gaza over the same such thing.

"They are struggling to survive and I am trying to protest," she said in a telephone interview.
Her friends have tried to talk her out of it. But she has pressed on, subsisting on water, vitamins, and Gatorade as part of a protest called Starving for Peace, organized by members of People for Equality and Relief in Lanka, or PEARL.
"I was lucky enough to be born here, away from the bombs, away from the death, and away from the extremist government that treats you like a second-class citizen because of the language you speak," she said. "If my family wasn't lucky enough to get out of the country . . . I might have been suffering the same fate."

Now does THAT ever sound like ISRAEL!!!!!

Suntharalingam was born in Boston, but her mother moved to the United States from Sri Lanka in 1989 with her husband, eventually joining roughly 350 Tamil families in the Boston area. Suntharalingam learned to speak Tamil before she could speak English, and her mother cooks Tamil food every day.
Suntharalingam stays connected to Tamil culture by participating in the Boston Thamil Association of New England, and through the stories her mother and uncles tell, Suntharalingam said. Three years ago, she traveled to Sri Lanka to attend one of her uncle's weddings.
"I've grown up purely Tamil," Suntharalingam said. "It kind of runs through me."
Tens of thousands have died in the conflict between the Sinhalese majority, which makes up 74 percent of Sri Lanka's 21 million people, and the Tamil minority, constituting about 10 percent.
Tension between the two groups has existed since Sri Lanka became independent from the British in 1948, but the situation erupted into all-out war in 1983, when the rebel Tamil Tigers began fighting for a separate homeland using suicide bombings as a tactic.

Yeah, TAUGHT TO THEM by the MOSSAD!!!! And why did the reporter leave out the Hindu-Christian/Buddhist angle? Why the omission?

The Sri Lankan government responded with a brutal crackdown on ordinary civilians. In 2002, the government and the Tamil Tigers formalized a cease-fire. But last month, the Sri Lankan government began a massive offensive that has shrunk rebel-held territory - once estimated at 7,000 square miles - to just 80.
In recent weeks, hundreds of noncombatants are believed to have been killed in the fighting; the Sri Lankan government has reportedly bombed hospitals, and a Tamil Tiger suicide bomber blew herself up at a refugee camp. The Sri Lankan military has been reluctant to let World Food Program convoys into the war zone, insisting that a humanitarian pause would let the rebels regroup or escape.

Israel, Gaza, Hamas, no?

That prompted Suntharalingam and other youths involved with PEARL to plan a hunger strike to pressure the United Nations and the Obama administration to help the Tamils.

Nice thought, but you've seen what hasn't happened, right?

At first, her mother did not believe she would be able to last very long because she loves to eat. Now she worries aloud that her daughter will grow so thin she will "disappear." But her mother supports the cause.
"As a mother it's difficult," said Suntharalingam's mother, Suba, who is vice president of the Boston Thamil Association. "Even though she was born here and lives here, she was feeling for others' suffering. You have to be proud about it."
Suntharalingam's last meal, a Burger King Whopper, was at midnight Feb. 2.

She choose fast-food as her last meal?

Since then, the gnawing in her belly has not been nearly as bad as she expected. Her mind is not as sharp in class, however. She has taken to watching her step dance practice after school, rather than joining in. When she gets home in the afternoon, she runs upstairs and shuts the door, to keep out the smell of her mother's wonderful cooking. Every other day, she joins a supportive conference call with the others who are fasting. She has blogged about her experience on PEARL's website.

How come the Globe didn't link it like they link all the corporations?

"It would be nice for people to understand that if our people are gone and our country has disappeared, then there won't be a Tamil culture to go to," she wrote. "We all have to take action immediately to save our country, our people, our language, our identity."

PALESTINE!!!!

Suntharalingam's group plans to fast until they have forfeited 10,000 meals cumulatively - each meal representing 30 of the estimated 300,000 Tamils trapped in the war zone. On PEARL's website, people can pledge to fast a meal themselves, deducting from the total. So far, more than 1,100 Americans, including dozens of Bostonians, have pledged to forgo meals.
Suntharalingam, who wants to become a doctor, plans to travel to Sri Lanka after graduation. For now, she said, her fast will continue.

Yeah, for ONE MORE DAY (keep reading)!!!

"As long as I can. I'm hoping a month," she said.

--more--"

Okay, now back to your daily doses of MSM bulls***!!!

VAVUNIYA, Sri Lanka - Trying to quiet her crying infant son, the young mother grabbed her 11-year-old's hand and told him to follow her. Starting out at dusk, they spent hours hiding in the jungle terrain, crouching amid the crossfire between the Sri Lankan Army and Tamil Tiger rebels.
Like thousands of other civilians stuck in the epicenter of the seemingly final battles of this civil war, Sashi Kumari Selvarajha's family was struggling to flee through marshlands and across the front lines, hoping for safety, she said through tears. But just as they crossed the line, she said, rebel forces opened fire.

How does she know it was them?

"We started running on Monday night. But we didn't think it was safe. So we stopped to sleep in the jungle. As the sun rose, we fled. But my husband and mother-in-law got killed," a distraught Selvarajha, 31, said as she unloaded her bags at a crowded camp for the war-displaced in government-held Vavuniya District, where 2,000 haggard and dehydrated civilians arrived Wednesday. "I'm never going back to that place."
Hers is a rare firsthand account of the harrowing flight of thousands of civilians to this heavily fortified frontier town. It was given as the Sri Lankan Army said it would end a largely ineffective "safe zone," which health officials and diplomats report had been shelled by both sides.

Notice how we never get a RARE, FIRST-HAND ACCOUNT from the "rebels?" No, we get SOME KID from BOSTON instead!!!!

Instead, troops would set up a safe zone on a 7 1/2-mile-long strip of land on the northeastern coast where civilians were already seeking refuge, Brigadier Udaya Nanayakkara, a military spokesman, said Thursday.

Most civilians who flee the fighting are put into military-run camps that officially do not allow outsiders. Stone-faced and red-eyed relatives line up behind sandbags, coils of barbed wire, and machine gun nests as soldiers check their identity papers before they can find missing loved ones.

That sounds like a CONCENTRATION CAMP, doesn't it?

This story and the "reporting" of such just get WORSE and WORSE!!!!!!

A brother and sister stood weeping inside the camp and described how their 41-year-old father was shot dead when they attempted to cross into government-held areas. Their mother and sister are fighting for their lives in Vavuniya's hospital.
"We lost our father. We lost everything," said Rasendran Nitha, 17, who huddled with her brother, Rasendran Radanraj, 20. "We don't know what to do. We desperately need peace in Sri Lanka."
As the army continues its offensive to end the 25-year-long rebel war, the Sri Lankan government has come under increasing international pressure to halt its offensive and allow an estimated 250,000 civilians trapped in the northern Wanni region safe passage.

And the result has been the same as Israel -- nothing!

The government has refused and says the number of trapped civilians is lower. It argues that the Tigers, known for their frequent use of suicide bombers, are using civilians as human shields, an assertion that rebels deny but that diplomats and human rights workers here agree is true.

Oh, the WESTERN, GLOBALIST, AGENDA-PUSHING RIGHTS GROUPS agree with the GOVERNMENT, huh? There goes their credibility!

Letting up on the fighting would allow the rebels to escape along with the displaced, President Mahinda Rajapakse's government has said. The United States has labeled the Tigers a terrorist group.

--more--"
Oh, THAT EXPLAINS the MEDIA COVERAGE -- and SO MANY OTHER THINGS!

"Genocide in Sri Lanka" by Bruce Fein |
February 15, 2009
THE BARRAGE of media reporting of the grim conflict in Sri Lanka has captured popular imagination, but has overlooked the grisly Sinhalese Buddhist genocide of innocent Hindu or Christian Tamil civilians by a US dual citizen and US green card holder. The two should be investigated and prosecuted in the United States.

Btw, Fein is the former Reagan Justice Department official that has called for prosecuting Bush, et al, for their violations of Constitution.

Of course, this piece is a one-day wonder -- and an OP at that!!

Acting on behalf of Tamils Against Genocide, I recently delivered to US Attorney General Eric H. Holder a three-volume, 1,000 page model 12-count genocide indictment against Gotabaya Rajapaksa and Sarath Fonseka charging violations of the Genocide Accountability Act of 2007. Derived from affidavits, court documents, and contemporaneous media reporting, the indictment chronicles a grisly 61-year tale of Sinhalese Buddhists attempting to make Sri Lanka "Tamil free."
Rajapaksa and Fonseka assumed their current offices in December 2005. They exercise command responsibility over Sri Lanka's mono-ethnic Sinhalese security forces. On their watch, they have attempted to physically destroy Tamils in whole or in substantial part through more than 3,800 extrajudicial killings or disappearances; the infliction of serious bodily injury on tens of thousands; the creation of punishing conditions of life, including starvation, withholding medicines and hospital care, humanitarian aid embargoes, bombing and artillery shelling of schools, hospitals, churches, temples; and the displacements of more than 1.3 million civilians into camps, which were then bombed and shelled.

Sounds a HELL of a LOT like ISRAEL, doesn't it?

Of course, I NEVER SAW a Globe op calling for ISRAEL'S PROSECUTION!!

This degree of mayhem inflicted on the Tamil civilian population because of ethnicity or religion ranks with the atrocities in Bosnia and Kosovo that occasioned genocide indictments against Serbs by the International Tribunal for the Former Yugoslavia.

And GAZA, Palestine, too!!!!!

During the past month, a virtual reenactment of the Bosnian Srebrenica genocide of more than 7,000 Muslims has unfolded. Sri Lanka's armed forces employed indiscriminate bombing and shelling to herd 350,000 Tamil civilians into a government-prescribed "safety zone," a euphemism for Tamil killing fields. There, more than 1,000 have been slaughtered and more than 2,500 have been injured by continued bombing and shelling.
As a preliminary to the horror, roads and medical aid were blocked, and humanitarian workers and all media were expelled. During a BBC radio interview on Feb. 2, Rajapaksa declared that outside the "safety zone" nothing should "exist." Accordingly, a hospital has been repeatedly bombed, killing scores of patients. Rajapaksa further proclaimed that in Sri Lanka, any person not involved in fighting the Liberation Tigers of Tamil Eelam is a terrorist.
The United States assailed and sanctioned Serbia for noncooperation in apprehending genocide defendants Slobodan Milosevic, Radovan Karadzic, and Ratko Mladic. The United States should be no less scrupulous in prosecuting suspected genocide by its own citizens or permanent residents. Further, under Article 5 of the Genocide Convention of 1948, ratified by the United States Senate in 1986, the United States is obligated to provide "effective penalties" for genocide. That imposes an obligation on signatory parties to investigate and to prosecute credible charges - a benchmark that has been satisfied by TAG's 1,000-page model 12-count indictment of Rajapaksa and Fonseka.
The predictable defense of counter-terrorism will not wash. Not a single Tamil victim identified in the model indictment was involved in the war between the Government of Sri Lanka and the Liberation Tigers of Tamil Eelam. The lame excuse of defeating terrorism was advanced by Sudanese President Omar Bashir to a genocide arrest warrant over Darfur issued by chief prosecutor Luis Moreno-Ocampo of the International Criminal Court. The chief prosecutor retorted that although Bashir's pretense was counterterrorism, his intent was genocide.
The State Department lists Sri Lanka as an investigatory target in the Office of War Crimes. The New York-based Genocide Prevention Project last December labeled Sri Lanka as a country of "highest concern." President Barack Obama has made the case for military intervention in Sudan or elsewhere to stop genocide. All the more justification for the United States to open an investigation of the voluminous and credible 12 counts of genocide against a United States citizen and permanent resident alien assembled by Tamils Against Genocide.

I wouldn't be holding my breath, readers.

A genocide indictment would probably deter Rajapaksa and Fonseka from their ongoing atrocities against Tamil civilians. There is no time to tarry.
Bruce Fein is counsel for Tamils Against Genocide and former associate deputy attorney general under President Reagan.
--
more
--"


Then it is RIGHT BACK to the PROPAGANDA!!!!
"
Tamils recruiting children
,
UN says
" by Reuters |
February 17, 2009


Oh, the U.N. said, huh?
COLOMBO, Sri Lanka - The separatist Liberation Tigers of Tamil Eelam have
forcibly recruited children
and a UN worker, and
are shooting and killing people
trying to flee Sri Lanka's war, the United Nations said yesterday.
Good thing the government isn't shooting and killing people, huh?
"They (people) should not be shot at and they are being shot at by the LTTE," said Neil Buhne, the UN resident coordinator for Sri Lanka. He did not say how many had been killed.
"The LTTE is now recruiting people as young as 14. It had been happening but it seems to be accelerating."
The Tigers could not be reached for comment.
Sri Lankan troops have cornered the rebels in a tiny swath of jungle and are battling to finish off a separatist rebellion that has raged off and on since 1983 and is now one of Asia's longest-running wars. Buhne said the LTTE was actively keeping people from leaving a war zone now measuring just 55 square miles.
Amid growing calls to protect thousands of civilians trapped by the LTTE, the military established a no-fire zone inland, and moved it to the coast last week, saying the LTTE had fired artillery from the original one and forced people out of it. There were also reports civilians had been killed in fighting inside a newly demarcated no-fire zone on the island's northeastern coast, the UN said.
The new no-fire zone had provided some respite to people but needed to remain free of any combat, Buhne said. Buhne said the LTTE forcibly recruited one of the 15 local UN employees into their ranks. Those 15 were physically barred from leaving the war zone last month by the LTTE, along with 75 dependents, he said.

--more--"

Gee, considering EVERYTHING ABOVE, this article was a real piece of propagandistic shit, huh? NO PROOF of ANYTHING, just allegations spewed by some shit U.N. puke!!!!!

Let's see if the MSM can do better next time out:

COLOMBO, Sri Lanka - Government artillery attacks and air raids in Sri Lanka's northern war zone killed at least 38 civilians yesterday and wounded 140, the area's top health official said. India offered to help evacuate tens of thousands of noncombatants trapped by the fighting.

Shouldn't the war be over by now? That's what the government said weeks ago. How come "terrorist" groups never really go away?

Dr. Thurairaja Varatharajah said 13 members of one extended family were killed in their sleep early yesterday when artillery shells exploded on their home in a village inside a government designated "safe zone" in the fast-shrinking strip of territory still held by Tamil Tiger rebels.

Well, we now know that "safe" zone is an EXTERMINATION ZONE -- just like Gaza!!! And the DESTRUCTION of an entire family is just SOOO ISRAEL-LIKE!!!!!

The bodies were brought to the makeshift hospital Varatharajah runs out of a school in the area, he said, adding that the shelling appeared to come from government-controlled areas to the south.

Then WHERE are the CALLS of CONDEMNATION? Notice how the government's mass-murder is sloughed of by the biased, obfuscating, agenda-pushing press?

No wonder I now despise newspapers!

Hours later, air force jets launched a pair of air strikes in the area that killed 25 more civilians, whose bodies were brought to the hospital, he said.

Need I even type it?

--more--"

"Rights abuses cited in Sri Lanka; Advocates find both sides violate international law" by Mark McDonald, International Herald Tribune | February 21, 2009

Didn't I already comment on the western-centric bias of the human rights people? And HERE THEY GO AGAIN!!!!!

Also consider: Amnesty International's Scandalous Obliquity

"A report issued by the group on Sunday, February 22nd, pointed out that arms supplied to "the two sides" were used in attacks on civilians and "civilian objects" which constituted war crimes. Nonetheless, a careful examination of the report shows a clear propensity on the part of AI to create a false symmetry between Hamas, a small liberation movement resisting a decades-old foreign military occupation, and Israel, a manifestly criminal state armed to the teeth, which has been committing every conceivable crime under the sun for the purpose of maintaining its colonialist occupation and brutal domination over the Palestinian people."
Human Rights Watch has accused Sri Lankan government troops and ethnic Tamil fighters of "numerous violations of international law" during fighting in recent weeks, charging that both sides "appear to be engaged in a perverse competition to demonstrate the greatest disregard for the civilian population."

I'm TIRED of the EQUALIZATION of FORCES when it COULDN'T BE FARTHER from the TRUTH!!!!

The rights group, which is based in New York, said in a report released yesterday that government forces have launched "indiscriminate artillery attacks on civilians" trapped along with rebel fighters in a small strip of land on the northeastern coast.

The group further criticized the government's detention of displaced civilians in squalid camps just outside the war zone.

But they won't call them CONCENTRATION CAMPS for the "liberated," huh? The picture of this place and that given by the obfuscating, omitting, and biased AmeriKan MSM is really starting to irritate the hell out of me!

Human Rights Watch called on the rebels, known as the Liberation Tigers of Tamil Eelam, to allow civilians to safely leave the conflict zone and to stop using civilians as human shields.

I don't even believe that charge anymore. It's thrown around so often I now believe it is just a bullshit piece of useful propaganda for the agenda-pushing assholes running the paper.

Both sides have previously rejected such criticisms leveled by UN agencies, humanitarian groups, and the International Committee of the Red Cross. The government's refusal to allow independent journalists, rights monitors, and most aid groups into the area has made it difficult to confirm the allegations.

Compare that witht he reporting we have been getting: can you say ONE-SIDED and SLANTED GARBAGE?

They seem to have NO PROBLEM CONFIRMING IT when it is the "female suicide bomber." Then it JUST IS -- no confirmation necessary!

The government and the rebels have been fighting an intermittent civil war for the past 26 years.
With their conventional forces on the run and their territory reduced to little more than a wedge of jungle, the Tigers appear to be on the brink of defeat. And as government troops press the attack with greater success and added ferocity, civilians have been caught in the crossfire.

Interesting that the IHT is the international offshoot of the Jew York Times, huh? That expalins this piece of absolute rubbish!

Yup, MASS-MURDERING GOVERNMENTS are NOT a PROBLEM -- when they are not OFFICIAL ENEMIES promoted by the AGENDA-PUSHING JEWSPAPERS!!!!!!!!!!

In the past six weeks, the report said, "civilian casualties have skyrocketed." About 250,000 civilians are trapped in the battle zone. In Washington yesterday, about 1,000 people, including 86 Bostonians, gathered in front of the White House to call on President Obama and Secretary of State Hillary Clinton to intervene in what they called genocide against the Tamil minority in Sri Lanka.

Obama and Clinton showing protesters all the concern Bush did, huh?

Of course, the MSM is obviously not in favor of this particular protest (sticking it in the back end of an article and giving it one sentence); now, if it were a GAY PROTESTS, well, then it would have its OWN AGENDA-PUSHING ARTCILE in my Zionist shit sheet!!!

Meanwhile, defying the government's efforts to destroy them, Sri Lanka's rebels sent two planes on a surprise raid over the capital last night before antiaircraft fire shot both of them out of the sky, the military said.

????? I government said they were almost defeated, and now we find out the Tamils have an air force? Where did they get that?

One plane struck a government office building in the heart of Colombo, killing the pilot and a bystander and wounding more than 40 others. The other came down in a suburb, killing that pilot, as well, the military said.
--
more
--"


But they were shot down?
"Sri Lanka rebels call suicide air raids successful
COLOMBO (Reuters) - The Tamil Tiger rebels on Saturday called a defiant air raid on the Sri Lankan capital a success, despite the planes missing their stated targets the night before.
The surprise attack late on Friday by two small Tiger air craft set off hails of anti-aircraft fire across Colombo. One slammed into the main government tax office in central Colombo, killing at least two people and wounding 53, the military said.
The other plane was shot down and crashed in a marsh outside the international airport -- site of the Tiger air wing's first strike in 2007. State TV showed triumphant soldiers around the bullet-riddled fuselage of the small plane and its dead pilot.
The attack was the latest proof of the Tigers' ability to strike far from the war zone, where troops have rapidly encircled them in just 87 sq km (34 sq miles) of jungle and are within reach of ending a separatist war that began in 1983.
The Liberation Tigers of Tamil Eelam (LTTE) in a news release said the raid targeted Sri Lanka's air force headquarters in Colombo and airbase at the international airport, pro-rebel web site www.TamilNet.com reported.
TamilNet said the mission was flown by "Black Air Tigers," or suicide pilots, and said they had carried out successful air raids.

(Blog author just shaking his head. Have they no shame regarding the outrageousness of the lies they tell?)

Both planes came close to their targets. The tax office is near air force headquarters, and the crash site of the other was near the boundary of the airbase.

TamilNet showed the men it said were the pilots smiling, with Tiger leader Vellupillai Prabhakaran standing in the middle with his arms around them. The web site said the picture was taken before the mission, but did not give a specific time.

Friday's raid also showed that Sri Lanka's military could down planes from a ramshackle air squadron that had flown nine previous sorties since debuting in 2007.
Though it said it had downed one plane in September, the wreckage was never recovered. The seeming inability of the air force to stop the small planes was a source of longstanding embarrassment and frustration to the government.
The LTTE is on the verge of defeat with more than 50,000 soldiers surrounding them in the northern war zone, and where the military said heavy fighting was ongoing.
"Fighting is going on. Yesterday we recovered 10 LTTE bodies in Puthukudyiruppu," military spokesman Brigadier Udaya Nanayakkara said, referring to last town the rebels hold. "There were heavy confrontations."
Although most of LTTE's territory has been taken by the rapid military advance in the last year, troops have found seven airstrips but no planes. But the planes are small enough to take off from a dirt road.

Pffft. I really can NOT TAKE MUCH MORE LYING BULLSHIT!!!!!!!!!!!!!!!

So WHO was piloting those planes and WHERE were they from?

The fleet of propeller-driven planes is believed to be the only combat air wing operated by an insurgent group or any group on U.S. and E.U. terrorism lists, on which the LTTE appears.

Which leads you BACK to the MOSSAD connections, doesn't it? '
Something is WRONG about this INSURGENT GROUP, readers.

Sri Lanka's military has said the Tigers are flying three single-engine Zlin-143 light aircraft, believed smuggled onto the island in pieces and reassembled.

Like HAMAS ROCKETS, right?!!

Ha-ha-ha-ha-ha-ha-ha-ha!!!!

The propaganda was finally too much, folks!!

Now I'm just LAUGHING at how RIDICULOUS the MSM's version of this whole war crime has been!!!!!

It is just one of many warfare innovations the Tigers demonstrated in a conflict that has killed 70,000 people and is Asia's longest-running. The Tigers invented the suicide jacket - a bomb-laden vest -- and used it in hundreds of bombings.

Yeah, except they were TAUGHT the TECHNIQUE by MOSSAD!!!!!

Funny how the AmeriKAN jewsmedia ALWAYS LEAVES THAT OUT!!!!
--more--"

COLOMBO, Sri Lanka (CNN -- Military officials in Sri Lanka said they shot down a Tamil Tiger aircraft near the Colombo International Airport on Friday, in an air engagement with rebels that killed two people and left about 50 wounded.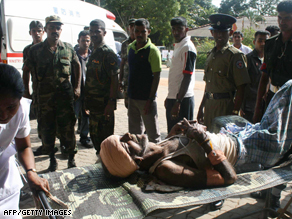 An injured survivor of a suicide attack in northeast Sri Lanka on February 9
Sri Lankan officials claimed both planes were shot down by the Sri Lankan Air Force, SLAF, refuting the Tiger's claim they were conducting suicide missions in the country's capital.
A spokesperson for the Sri Lankan Military said the body of a Tamil Tiger guerrilla was found by the plane's wreckage after it was shot down near the Colombo International Airport.
The other plane, which entered the capital of Colombo, dropped a bomb but crashed into the offices of the Department of Inland Revenue, two blocks away from Air Force Headquarters, a military spokesman said....

Why can't the MSM just tell us the whole truth? Why must I read three different articles?

According to the pro-Tamil Tiger Web site Tamil.net.com, two Black Air Tiger Pilots -- the group's elite squadron --died after carrying out diving missions into Sri Lanka's air force headquarters in Colombo and an air force base in Katunayaka.

CNN could not independently verify the claims made by the rebels or the government.

Then what good are you?

In a report released on Thursday, Human Rights Watch criticized the Sri Lankan government for its "indiscriminate" killings of civilian as it attempts to fight the rebel movement. As the rebel stronghold continues to shrink, civilians are trapped in the cross-fire, HRW said.
"Sri Lankan forces are shelling hospitals and so-called safe zones and slaughtering the civilians there," James Ross, legal and policy director at Human Rights Watch, said in a statement.

Israel, Gaza.

HRW also condemned the Tamil Tigers for its treatment of civilians. The organization's 45-page study said 2,000 civilians have been killed and another 5,000 have been wounded. The Liberation Tigers of Tamil Eelam (LTTE) -- commonly known as the Tamil Tigers -- have fought for an independent homeland for the country's ethnic Tamil minority since 1983. The civil war has left more than 70,000 people dead.

--more--"
How come the AmeriKan jewsmedia has been OVERLOOKING the ETHNIC ASPECT to this story, and why do they never clarify WHICH SIDE the VAST MAJORITY of DEATHS are and WHO INFLICTED THEM?

Yes, readers, I AM TIRED of OBFUSCATIONS and OMISSIONS in my "newspaper."

Btw, this is what I got on the situation in the next day's paper:
"Sri Lanka rejects Tamil call for truce" by Associated Press | February 24, 2009

COLOMBO, Sri Lanka - Sri Lanka's Tamil rebels, facing likely defeat on the battlefield, appealed for a cease-fire yesterday - a call immediately rejected by the government as a final effort by the separatists to "save their miserable skins."

Yes, it does sound like Israel and Gaza; however, now it is only a "likely" defeat? Three weeks ago they were saying it's over?!!!! Hey, what's ONE MORE MSM LIE, huh?

The Tamil Tiger rebels have lost most of their strongholds to government forces and are trapped on a sliver of land in the northeast along with tens of thousands of civilians. The government says it will soon take the remaining rebel territory.
"We are ready to discuss, cooperate, and work together in all their efforts to bring an immediate cease-fire and work towards a political settlement," the Tamil Tigers' political chief, Balasingham Nadesan, wrote in the letter to the United Nations.

But Nadesan rejected international calls for the rebels to lay down their arms.
--more--"

Does the GOVERNMENT ever lay down its arms? Then why should the rebels?

And remember that little girl who was fasting?

"Taking Sri Lanka protest from Winchester to D.C.
Priya Suntharalingam, 17, a Winchester High junior, went on a 12-day hunger strike to raise awareness about the plight of the Tamil minority in Sri Lanka. (BARRY CHIN/GLOBE STAFF)
A Winchester teenager who went on
a 12-day hunger strike to raise awareness about the plight of the Tamil minority
in Sri Lanka met with Senator John F. Kerry in his Washington office yesterday to discuss the country's ongoing conflict.


Kerry jokingly offered to share a meal at Burger King
with the student, Priya Suntharalingam, 17, whose last meal before her fast was a Whopper cheeseburger.


He said that?

The guy really is an out-of-touch, elite jerk! Like HE ever eats at Burger King!


You know there is a SLAUGHTER GOING ON over there, right, Mr. Chairman of the Foreign Relations Committee? What an ELITE PIECE of SHIT he has turned out to be!!!!

I'm SO EMBARRASSED that he's our state's senator -- although I didn't vote for him. I voted for the Socialist because I don't vote Republican or Democrat anymore. There is no differences between the two, as we have seen the last three+ years.
"I
admire you enormously for caring and for taking action
on what you're thinking about and for having an impact," Kerry told Suntharalingam, who was joined at his office by Tasha Manoranjan, 22, of Washington, D.C., who also fasted.


Yeah, as long as it isn't a fast over Israel's war-criminal occupations and seiges, 9/11 Truth, or something like that.


Ever look into it and get back to them, senator, or were those just political words to make the issue go away?
Members of People for Equality and Relief in Sri Lanka, or PEARL, completed their hunger strike Friday after 10,000 meals had been sacrificed by participants around the world.

Suntharalingam, the youngest member, began eating one meal a day Feb. 14 at the urging of friends and family.

She started EATING ONE DAY AFTER the Globe article?

So she is NO LONGER FASTING, is she?

And yet the title in my paper says:

"Taking her case to Kerry in Washington; Winchester teen fasts to protest Sri Lanka conflict"

WTF is with the headline, Globe? She is NOT FASTING ANYMORE!

Kerry and the Winchester High School junior discussed the need to end violence in the country, where fighting between the Sinhalese-led government and a Tamil rebel group has escalated in recent weeks, trapping as many as 200,000 civilians in the crossfire.

How come only ONE ARTICLE told me of the ETHNIC and RELIGIOUS DIMENSIONS to the conflict, readers?

Why is the AmeriKan Jewsmedia CONCEALING the IDENTITY and RELIGIONS of TAMILS?!!!!!

Suntharalingam told the senator that her goal for the country was "peace and equality for all its citizens," not necessarily an independent country for Tamils, the goal of the rebels. Suntharalingam also attended a Senate Foreign Relations subcommittee hearing on Sri Lanka yesterday as Kerry's guest.

--more--"
Oh, Kerry held a hearing. Big whoop!!!

Also see: Kerry's Colossal Insult

So it is four days later; the WAR OVER YET?

I guess that's why Sri Lanka hasn't made an appearance lately.... like Zimbabawe and so many other places, while the daily newspaper is filled with crap!